My wife asked me where I would like to celebrate my 40th birthday. My first thought was a funeral parlour – then having accepted my 40th year fate I replied to go to the @merrymonkfood at Isleham, Cambs. I'd realised that astonishingly we had never been in the 10 years of being in the area, had heard various reports ranging from brilliant to not so good and really ought to see what all the fuss was about.
Accompanied by my cantankerous 82 year old farmer father and slightly fussy 70 something mother off we bravely set into the Cambridgeshire Fens on a cold Tuesday evening.
We were greeted by a slightly shy but personable chap, a roaring wood burner and cleverly set out dining areas with tables presented to perfection. It felt sophisticated yet relaxed and homely, which was a good start, although I feared my father might become too comfortable and fall asleep as he hadn't had his afternoon kip that day.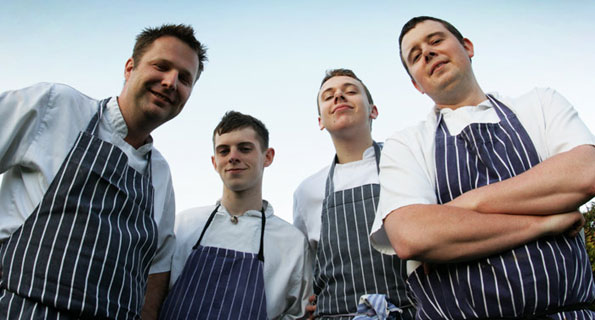 The slightly shy personable chap turned out to be Adrian Smith (left) the chef/proprietor, who had taken a leap of faith 10 years ago and purchased the Merry Monk.
Adrian presented us with a fine looking à la carte menu that on paper that would grace any aspiring Michelin Star restaurant. Through experience I didn't let myself run away with excitement as I've seen pie & chips described as some unfathomable delicacy!
Dad blindly plumped for a starter of warmed Thai pork balls with lemon grass, ginger, chilli, coconut and peanut curry. Mum and wife opted for steamed Shetland mussels with a Thai spiced cream (£5.95) and my eyes were drawn to king scallops with sweet corn puree, chorizo and apple jam (£9.50).
Whilst waiting, a delightful waitress (with plenty to match my cantankerous Dad) delivered a small surprise of sweet carrot & parsnip soup with dill pollen. Dad looked at me as if to say "What the bloody hell is that?!". However, once consumed declared rather too loudly, "bugger that was good!".
Our starters were sublime… The subtlety of the Thai spiced cream with the taste vulnerable mussels was genius, and the balance of my beautifully cooked scallops with the mild chorizo burst, filled me with pleasure.
For main we plumped for:
12 hour slow roast dingley dell pork on mashed potato with braised red cabbage, crackling and suffolk cider jus – £14.95
Pan fried sea bass with king scallops – £22.95
Slow roast breast of duckling with duck leg hash with an orange, honey & red pepper sauce – £16.95
A side dish of "agria" hand cut chips and mixed vegetables – reasonably priced at £1.50 each
This prompted a debate on variety of potatoes between myself & Adrian as it turns out we use the same Fenland Potato producer (Jonathan Walters) but different varieties. I still think Maris Pipers make the best roasties and chips but the flavour of the Agria's was superb.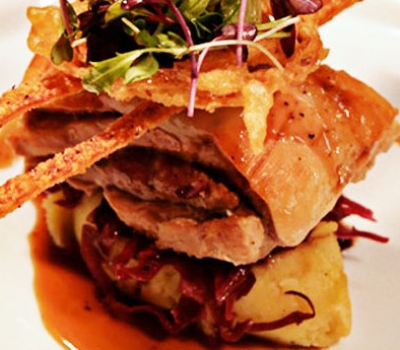 People who know me would tell you I don't blow sunshine up people's bottoms for no good reason, but my slow cooked duck breast (which was still pink) was as good as it gets and certainly as good as I'd got.
All was fabulous, and the care and attention to detail belonged on a particularly strong edition of Professional Masterchef.
All of us were too plentified to be tempted by the honey trap dessert menu (a frequent criticism of modern food is leaving hungry) but this was traditional-modern using the finest local ingredients with richly filling accompaniments.
The acid test for any food business is when the bosses are away is everything as it should be. Adrian had hurt his back so wasn't our chef but the food presented & cooked (admittedly under Adrian's beady eye) was first class and all involved should have been very proud.
Proud (and that overused word passionate) is what I believe Adrian is, however I got the sense that as he is not flamboyant (otherwise known as cocky) as many top class Chefs, he's possibly become somewhat of an unsung hero.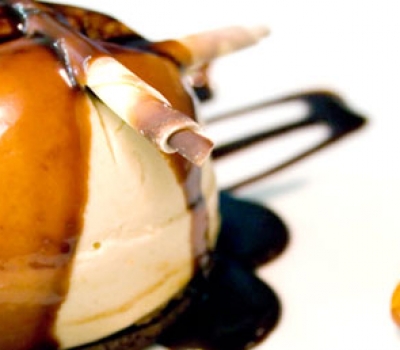 On busy nights there are up to 5 accomplished chefs hopefully ensuring the consistency. Consistency is the key for any restaurant and I don't think it's a coincidence that the Merry Monk has been there under Adrian Smith for 10 years. If he and his talented band of Chefs keep producing food like we experienced, he'll be there for another 10.
It certainly won't be 10 years before we visit again!