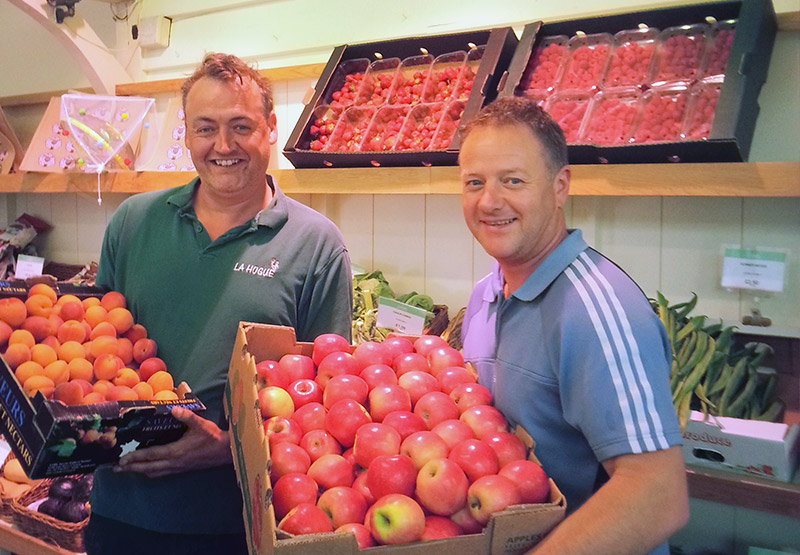 Press release
TOP FRUIT & VEGETABLE
RETAILER JOINS LA HOGUE
One of East Anglia's premier Fresh Fruit & Vegetable retailers has taken a franchised partnership in the National Award Winning La Hogue Farm Shop & Cafe, Nr Newmarket.
Bill Grimwood, who has some of the most renowned fruit & vegetable stalls in the area, including at the historic Bury St Edmunds market on a Saturday, has been procuring the best, local & seasonal fresh fruit & vegetables for over 32 years and is renowned both for his quality, value for money and amazing displays.
Mr Grimwood said

"This is a huge honour and fantastic opportunity to trade in one of the premier businesses in East Anglia. La Hogue has an enormous reputation for what it offers and I intend to fully enhance that with a "magical" fresh fruit and vegetable offer"
Mr Grimwood, who is Vice Chairman of the Bury Market Traders Association, has a huge network of the best local traditional growers and also visits historic Covent Garden in the early hours to procure the freshest, best quality fresh fruit & vegetables on offer.
Chris Reeks owner of La Hogue said

"We are absolutely thrilled Bill has joined us at La Hogue. Our passion to provide the best local and seasonal fresh produce will undoubtedly be enhanced as Bill has one of the best reputations in the area in this regard. I truly believe our customers will be wowed by what Bill has to offer"
In another new development, La Hogue has launched a new online shop offering its finest home produced and local fresh meats & game with home delivery for customers throughout the U.K.
La Hogue's renowned home produced grass fed lamb together with other local free range meats are available with discounted "freezer packs" sure to be popular.