I love twitter – my wife hates it! But it's through Twitter and Sarah (@brays_cottage) that I got to engageand meet with Dr Tim Kinnaird. And my wife, now having met him briefly, hates Twitter a little less.
When we announced that Tim would be headlining our Regional & British Producer Fayre on the 17th & 18th September 2011, one of our customers came to me and said, "Is that the tall jolly one off Masterchef?".
Indeed, when getting to the final of MasterChef in 2010 I think Tim endeared himself to the whole nation as the thoroughly nice Children's Doctor who made it to the last 3 contestants. You could see he was continually self doubting but had an inner strength (and an extraordinary cooking ability!) that had to be necessary to get to the final of one of the toughest competitions on T.V.
Tim grew up in Oxford and Norwich. He studied medicine at Birmingham University and then went onto a career in Paediatrics becoming a consultant in Norwich aged only 33. Tim's expertise was the management of Children and young people with development and behavioural problems. Another glimpse of that inner strength, and a good deal of compassion.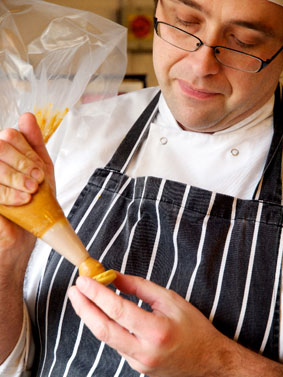 Tim met his wife Rachel, who's a GP in Norfolk, at medical school and they have two children Abi and Noah. Tim's love of food was evident at a young age as he taught himself to cook from his mum's Good Housekeeping cook book for children. He loves the detail & complexity of fine patisserie that would drive many of us amateur cooks to distraction!
Following his roller coaster ride on Masterchef, so it was that he took the leap of faith and set up his own patisserie business in Norfolk called Macarons & More(@macaronsandmore). The business has flourished, and Tim has rapidly built up a reputation as the Macaron Master.
Tim always appears bemused by the attention he's received since MasterChef. Claire (@breckland) told me she was with him at a food show once and people were clambering to speak to him. He turned to Claire and said, "Why do all these people want to talk to me? I don't understand?".
I called in Chris and you weren't there. I was sad. But I'm over it now.
– Dr. Tim Kinnaird
The only thing I haven't mentioned about Tim, is his quick witted and brilliantly dry sense of humour. He called in to see me in the shop one day and unfortunately I was out. He posted on twitter, "I called in Chris and you weren't there. I was sad. But I'm over it now.".
There's also a fantastic interview with Tim by the brilliant food blogger @meemalee that demonstrated his sense of humour, and is well worth a look – it made me chortle!
So all in all we're pleased that Dr Tim is headlining our Regional & British Producer Fayre next week and if you're a foodie of any kind do say "Hi!" to him, and also don't walk away without his Macarons –they're stonkingly good!